An office interior design project is something that should never be rushed. It requires plenty of planning to ensure that workers have access to the tools that they need to improve productivity. A good office floor plan should make your work space functional. If your employees work together on group projects most of the time, you may want to switch to an open office plan. If your clients require more privacy, closed-in cubicles or multiple offices could be the best option for you. It is important that you work with a reliable interior office design company when renovating your work space to ensure that everything is completed in a professional and timely manner. Here are a few things that you may want to consider bringing up to your design team when discussing your renovation plans.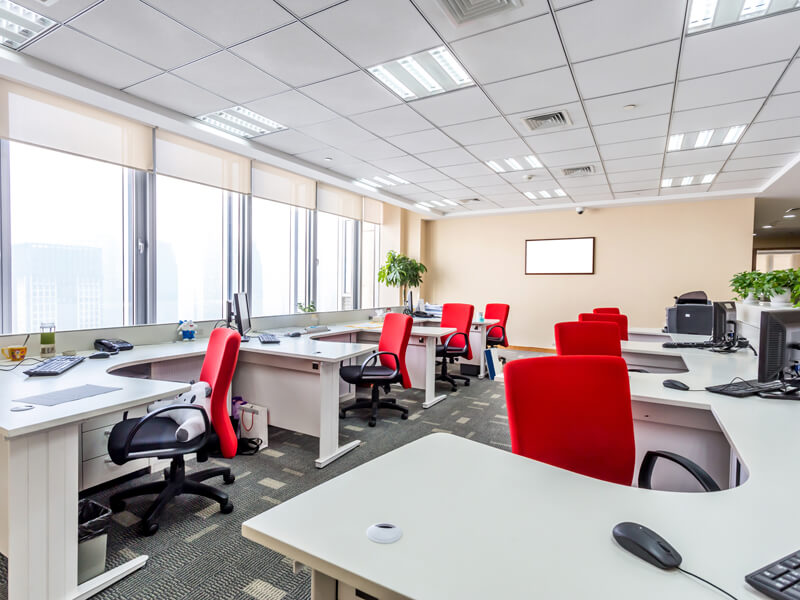 Should I Create an Open Office Plan?
There are several reasons why a company may opt for an open office plan instead of an office that is filled with small rooms or cubicles. However, it all comes down to the type of company that you operate and the best way for your employees to work. Research has shown that the open concept can have a positive effect on productivity but the decrease in privacy can be a negative aspect if you deal one-on-one with clients or discuss confidential information.
One good thing about an open office plan is that it improves communication between your workers. When employees work together without walls separating them, it makes it easy for them to approach each other with new ideas or solutions to a problem. If communication is the key to your company's success and your employees work best when doing team projects, then an open office floor plan could be the best option for you.
Contemporary Vs. Traditional
Your clients may feel comfortable stepping into a traditionally-styled office with neutral tones, wooden furnishings, and a welcoming design. This is a great option if you run a company such as a doctor's office or a law firm that needs to have a trustworthy appearance. Walking into one of these facilities for the first time can often be stressful for your clients; therefore, you want to set their minds at ease by creating a warm environment where they will be able to relax.
On the other hand, if you are a company that works with the latest in technology and want your customers to know that you are in tune with all the modern-day aspects of your industry, then a contemporary look is the way to go. You can use bold colours that will intrigue or excite others as they walk into your office. And you can use many of today's innovative designs such as adding social areas to your office space where employees can come together and talk about projects in a non-office setting. You may want to include a ping-pong table or basketball hoop in the back parking lot where your workers can unwind.
Bring the Outdoors Inside
Adding more elements of the outdoors to the inside of your office is a great way to improve morale and engage your workers to be more productive. Some of the options that many office managers are taking into consideration these days include exposed concrete floors, natural floral patterns in fabrics, and artwork that associates with nature. It helps to create a comfortable environment where employees can be inspired and improve their everyday work flow.
Create a Space That Will Enlighten Gen Z
With those born between the years 1994 and 2010 now starting on their future careers and entering the workplace, it is time to create an office that is up-to-date and ready to adapt to the changing times. This generation has grown up always having access to the latest technology so you will need to create an office that allows for easy upgrades as technology changes. Due to the shortage in today's skills in the older generations, there are many companies, especially those in the IT industry, who are more willing to recruit those from Generation Z. Therefore, you need to create a workplace that will meet the daily needs of how your new tech-savvy employees work. Be sure to install plenty of electrical ports and have access to USB ports in all areas. Have your design team include all the latest hook-ups for a modernised office that is ready to work for younger employees.
Activity-Based Planning Is the Key to Your New Office Space
You should renovate your office space based on how your employees work best. When your workers come in each morning, the first thing they do is check their messages on their email or voicemail. Once they have completed that task, it may be time for a meeting. If the information is not confidential, an open conference space could be a great option. Even though all workers have similar spaces, they will have more activities to choose from with an activity-based office plan. You may want to add a coffee bar where workers can socialise each morning and discuss the plans for the day or a library and resource centre where they can gather information, recharge their devices, and stay in touch with remote coworkers, business partners, or clients.
Sit and Stand Desks
The idea of white gloss coffee table and standing desk spaces has grown in popularity over the past few years as more offices are adding these options to their workspace. Sitting at a desk all day has long been viewed as a problem and can cause you to have aches and pains long after the work day is over. Having the option to stand at your desk and use your computer or phone is a great way to stretch your legs while you stay productive at the same time.
Renovating your office space is a good way to improve morale in your employees, which will also help to improve focus, communication, and productivity. You will see a difference in your profits over time if you choose the best new office design to benefit your workers.